---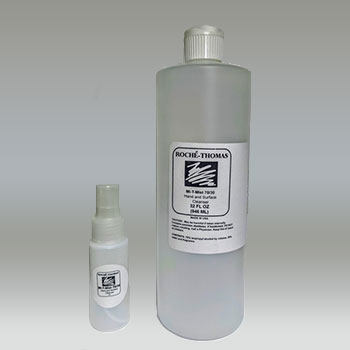 This combo includes our 2oz Mi-T-Mist 70/30 and a 32oz Refill Mi-T-Mist 70/30
Mi-T-Mist 70/30 is a topical antimicrobial designed to cleanse and sanitize hands and surfaces. It exceeds the CDC recommended of 60% Alcohol for killing the COVID-19 (coronavirus). This hand cleaner is made up of 70% Isopropyl Alcohol and 30% Water and Spearmint Fragrance making it a great choice to disinfect hands, counters and doorknobs. Easy to use - spray the fine mist on hands or surfaces and wipe or let evaporate (about 45 seconds).
Shop Hand & Surface Cleanser
Mi-T Mist
Mi-T-Mist is a topical antimicrobial designed to cleanse the mouthpiece and provide a refreshing agent that will remove residue build-up from the instrument. Easy to use: apply the fine mist spray to mouthpiece and let evaporate (about 45 seconds). To freshen and clean the inside of the instrument, spray liberally into the instrument & immediately swab. Mi-T-Mist evaporates quickly and assists in eliminating moisture.
Shop Cleansers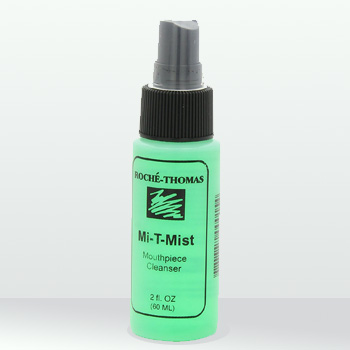 ---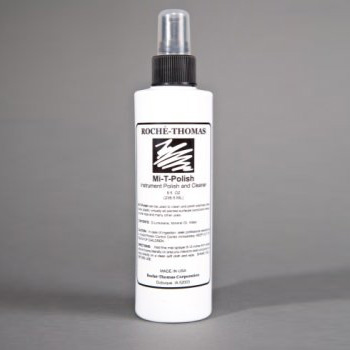 Mi-T Polish & Mi-T Fresh
Mi-T Polish works well on silver and brass finishes as well as guitars. It is a great, safe polish for all of your polishing needs. Not only does it polish your instrument, but it smells great too. Chemicals can smell harsh, and some smell like they have to be damagin your instrument. Note our products, safe to use on your instrument and you won't pass out while maintaining that showroom shine. The bottle is in an easy to handle 4oz container with finger grooves molded into the bottle and comes with a fine mist spray.
Shop Polishers & Fresheners
Lubricants (Oils & Greases)
Roche-Thomas Premium line of lubricants are formulated and bottled in our facilities using a special filtering process that eliminates impurities and residue. Our unique process insures that you receive a fast acting lubricant with a clan coat which is virtually dust and lint free. All our oil products come in two sizes 2oz which has an easy to use control drop lid and 16oz easy to pour refill.
Roche Thomas Lubricants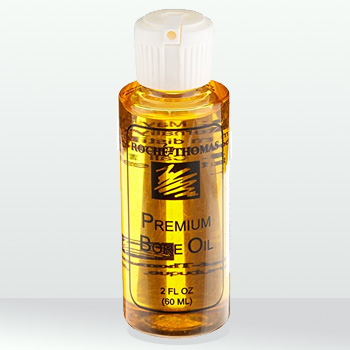 ---


ROCHÉ-THOMAS Corporation specializes in musical instrument care products and providing the tools to provide proper maintenance for musical instruments for over 45 years. Our high standards for qualiity and effective products is why we are the industry leader.